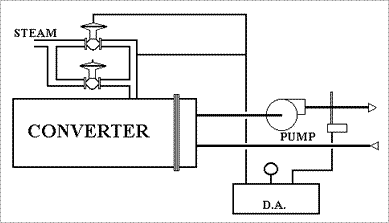 An overview of institutional HVAC systems is the focus of this seminar. This course is designed for personnel with some experience in HVAC operations who need to enhance their understanding of the ore complicated HVAC systems. This is not an introductory HVAC course. Individuals attending this seminar can expect to gain an excellent working knowledge of the processes and systems found in sophisticated HVAC systems.
Monday
HVAC fundamentals to include heat transfer, units of measurement, and definitions of HVAC processes. How principles of HVAC function in "real world" systems. Factors involved in human comfort such as temperature, humidity, air motion, cold wall effect, etc. Air and water flow basics. Psychometrics. use of the psychometric chart to solve and understand the relationships of temperature and humidity, etc. Hydronic pumping systems. Central and local steam distribution systems, PRV's, one and two pipe systems, condensate return systems.
Tuesday
Air handling units and systems. Analysis of types of operational peculiarities of systems to include reheat, mixing box, variable air volume, induction units, multizone, 100% outside air and return air systems, fan coils, unit-vents, etc. Each system type will be explained as to the intent of the design and the typical problems encountered. Typical control strategies. Perimeter hot water reset and pulse modulated steam systems. Chillers and chilled water pumping loops.
Wednesday
HVAC control systems. Pneumatic, electronic and computer control systems and their operation. This day deals with basic controls understanding. Individuals will learn "how far to go" into a system before calling in help from the "wizards". Basic thermostat calibration. How to separate control systems from mechanical systems problems. An overview of building automation (computer) and direct digital control systems. Motors, three phase power, motor starters, ladder diagrams, point to point diagrams and other electrical systems encountered in HVAC systems.
Thursday
Systems troubleshooting. How to follow a logical step by step approach from the complaining room through to the central mechanical systems to effect good troubleshooting skills. Air and water flow principles. How to determine problems with air or hydronic flow. Air flow volume, pressures present in an air handling unit and methods of measurement. Typical pressure drops through components in an air handling system. Basic testing instruments and their use. How to diagnose problems such as dirty coils (air or water side), dirty filters, inoperative dampers, high or low air flow volumes, closed fire dampers, etc.
Friday
Field operations and troubleshooting. Students will be able to perform troubleshooting on "in operation" HVAC systems. Simulated "bugs" will be placed into the subject systems for realism. Typical troubleshooting sequences for general use on all trouble calls will be covered. How to develop and utilize a systematic progressive approach to troubleshooting of HVAC systems. How to use magnehelic gauges, flow hoods, inclined manometers, etc., to diagnose system problems. Systems used for the field training will be determined by the accessibility of the mechanical rooms and types of systems most prevalent in your facility,
NOTE: Attendees will receive a textbook, various charts and reference material on HVAC systems and a completion certificate.