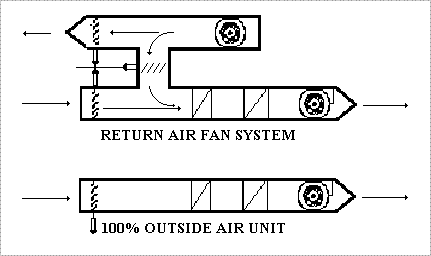 This new course was developed after 25 years of teaching HVAC controls and systems and recognizing how many HVAC systems are accepted with design and/or operational flaws.  As building mechanical systems become increasingly more complicated and sophisticated it is mandatory that these systems be commissioned or re-commissioned to insure their operational integrity.  this course is designed for personnel with experience in HVAC systems who desire to enhance their ability to provide commissioning of HVAC systems or inspection of these systems.  This is not an introductory HVAC course.  Individuals attending this seminar can expect to gain a good knowledge of the process of commissioning/re-commissioning sophisticated HVAC systems.
Monday 
Review of Advanced HVAC fundamentals to include heat transfer, units of measurement and definitions of HVAC processes.   Air and water flow basics.  Review of Psychometrics.   Analysis of types and operational peculiarities of systems to include reheat, mixing box, variable air volume, induction units, multizone, 100% outside air and return air systems, fan coils, unit-vents, chillers, converters etc.
Tuesday
Interpretation and analysis of the HVAC systems documentation to include mechanical specs, mechanical drawings, control drawings and test and balance reports. Gathering data and preparing the plan for commissioning/re-commissioning.
Wednesday
HVAC control systems.  Pneumatic, electronic and DDC control systems and their operational checkout.  Systems analysis.  How to determine problems with air or hydronic flow.  Air flow volume, pressures present in an air handling unit and methods of measurement. Typical pressure drops through components in an air handling system.  Basic testing instruments and their use.  How to diagnose problems such as dirty coils (air or water side), dirty filters, inoperative dampers, high or low air flow volumes, closed fire dampers, etc.
Thursday
Field Re-commissioning. Actual buildings at the Little Creek NAB will be used for hands-on re-commissioning of operational systems. Control sequences, balancing report data, mechanical operations integrity will be done on multiple systems. Basic reports will be created on the commissioned systems.
Friday    
Preparation of the necessary commissioning documentation to include reports, as-builts drawing, O&M manuals, etc. Developing a plan training of operations personnel on the proper operation and troubleshooting of the commissioned systems.